Buster Keel!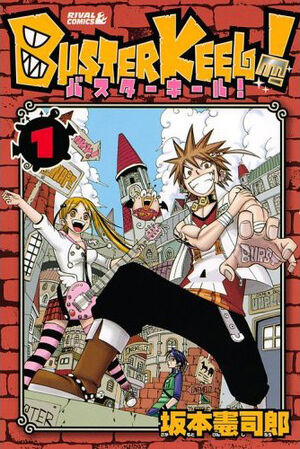 Information
Author:
SAKAMOTO Kenshirou
Original Run:
October 4, 2008 – July 4, 2012
Published by:
Shonen Rival (Kodansha)
Volumes:
12 (47 Chapters)
Genre:
Action / Adventure / Comedy / Fantasy / Shounen

Buster Keel! (バスターキール!, Basutā Kīru!) is a Manga series written and illustrated by SAKAMOTO Kenshirou. It has been running in Kodansha's monthly Shonen Rival since October 4, 2008, ending with it's 47th chapter in July 2012.
Plot
[
]
"Adventurers" are the group of people who set off on the adventure to defeat monsters of different ranks. The adventurers are divided into many categories according to their fighting style, eg. Monster Users or Fighters. One young Adventurer, Keel, set off for his journey to find the adventurer, Siva the Monster User, who is called as the world's best for defeating the fearsome S-ranked monster known as Dragon Ape and who he claimed to have taken something very important away from him. He met with Lavie, another adventurer who is a Monster User, with her monster, Mippy, and decide to stick with her because he was told by the person in the town that Lavie might know where Siva is...
Manga Guide
[
]
Volumes
[
]
#
Release date
Volume
1
March 4, 2009
Volume 1
Pages: 192

Cover Characters:

List of Chapters:
2
June 4, 2009
Volume 2
Pages: 192

Cover Characters:

List of chapters:
3
October 2, 2009
Volume 3
Pages: 192

Cover Characters:

List of Chapters
4
February 4, 2010
Volume 4
Pages: 192

Cover Characters:

List of Chapters
5
June 4, 2010
Volume 5
Pages: 192

Cover Characters:

List of Chapters
6
September 3, 2010
Volume 6
Pages: 192

Cover Characters:

List of Chapters

7
December 29, 2010
Volume 7
Pages: 192

Cover Characters:

List of Chapters

8
May 2, 2011
Volume 8
Pages: 192

Cover Characters:

Super Ninninmaru

Pai

Cookie

Chabuu

List of Chapters

9
September 2, 2011
Volume 9
Pages: 192

Cover Characters:

List of Chapters

10
December 28, 2011
Volume 10
Pages: 192

Cover Characters:

List of Chapters

11
May 2, 2012
Volume 11
Pages: 192

Cover Characters:

List of Chapters

12
September, 2012
Volume 12
Pages: 192

Cover Characters:

List of Chapters